One of the most beloved and celebrated islands among the Cyclades Islands chain, Santorini is a gem among the Greek coastline. Renowned for its magical sunsets, whitewashed buildings with azure domes and rugged landscapes, the island has managed to retain its rustic charm while offering all the luxurious amenities anyone could ever want or need. Drawing in visitors from around the globe each year, the best way to explore Santorini and its neighbouring islands? A luxury Santorini yacht charter. Not only will you have the most exclusive accommodation and access to the island's best kept hidden coves, but you'll also be able to avoid many of the crowds. Here we list three leading reasons why you should book a Santorini charter yacht.
Design
There is so much to do and see on the island of Santorini – from its various seaside villages to its historical sites and rich landscapes. The island itself was ravaged by a volcanic eruption in the 16th century BC, which formed its rugged, rocky landscape. Its beautiful capital of Firá is a vision of pristine whitewashed buildings built into the impressive, jagged cliffside. Take in the traditional Cycladic architecture when visiting its many museums, churches, and monasteries unique to the region. For a real taste of Cycladic design, head over to Oia, the most famous village in Santorini. Consisting of a complex of charismatic houses in small streets, flowering verandas, neoclassical mansions and blue-domed churches, see if you can spot the difference between the houses built for Venetian sea captains of the past and the more traditional cave houses from the villagers. The nature on the island is also surreal – one of the best ways to fully immerse yourself in the island's natural design is by hiking from Firá to Oia. Not only will you be able to enjoy the architecture, but you'll also be immersed in its stunning landscapes.
Diving
The island of Santorini is known for its phenomenal beaches. The ideal destination to spend many leisurely days on the beach and in the water, it is also a well-established snorkelling and diving hub due to its glistening azure waters and magical underwater world. The dramatic landscape of the famous Red Beach, a pebble beach set against a red cliff backdrop, has ensured it is consistently ranked among the island's best beaches. Home to surreal snorkelling, you'll be sure to see a wide range of exotic fish and sea creatures. One of the best diving spots is the Caves. Ideal for beginners, as it is only 10-metres deep, there are many caverns, canyons and hubs to explore, home to a range of fish and crustaceans. For those searching for unique rock formations and colourful corals, then head over to Perissa, which is home to a stunning array of marine life.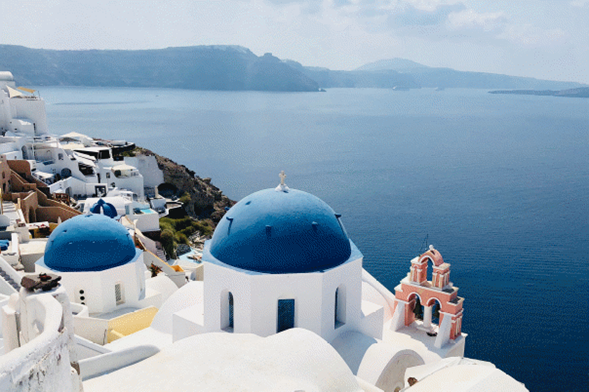 Dining
Like most Greek Islands, Santorini is known for its exceptional cuisine. Offering everything from traditional dishes to modern fusion, you will not be disappointed with the lack of variety. Made from the highest-quality ingredients, be sure to sample some of the local seafood, which will undoubtedly be freshly caught. Head to Kapari Wine Restaurant for breathtaking views and delicious Mediterranean cuisine, like smoked octopus and blue crab.
For a more private setting under the stars, head over to Fly Away Creative Restaurant & Bar.
Be sure to try the tuna tartare and lobster pasta.